Prepaid Packages
(Buy your extra paintballs before the day & get on the field quicker)
1) Choose a Prepaid Package that best suits your group

(ALL players need to be on the same Prepaid Package).


2) Get your groups Prepaid Package payment in ASAP to secure your spots

(Group payment please NOT individually).


PLEASE NOTE: There are NO refunds for people that do not play - but you do get to shoot their paintballs.
Equipment Hire includes:
Semi Automatic Paintball Gun
Paintball Mask
Camo Overalls
Padded Vest (if required)
Harness & Pods (if required)
14 inch Sniper Barrel Upgrade available.

(Prepayment required) $10 hire



Extra paintballs

Can be bought on the day. We recommend buying paintballs BEFORE going on to the fields. If you are trigger happy buy the bulk deal you think you'll need for your session to make the most of the discounts.
| | |
| --- | --- |
| Account Name | Paintball Park |
| BSB: | 065 165 |
| Account: | 1016 5435 |
| Description: | Your booking Name & date of play |
---
100 Paintballs, Entry & Equipment Hire
Full group payment is required in advance to secure your spots. (No individual payments)
No refunds for people that do not play - but you do get to shoot their paintballs

---
200 Paintballs, Entry & Equipment Hire
Full group payment is required in advance to secure your spots. (No individual payments)
No refunds for people that do not play - but you do get to shoot their paintballs

---
300 Paintballs, Entry & Equipment Hire
Full group payment is required in advance to secure your spots. (No individual payments)
No refunds for people that do not play - but you do get to shoot their paintballs

---
400 Paintballs, Entry & Equipment Hire
Full group payment is required in advance to secure your spots. (No individual payments)
No refunds for people that do not play - but you do get to shoot their paintballs

---
600 Paintballs, Entry & Equipment Hire
Full group payment is required in advance to secure your spots. (No individual payments)
No refunds for people that do not play - but you do get to shoot their paintballs

---
1100 Paintballs, Entry & Equipment Hire
Full group payment is required in advance to secure your spots. (No individual payments)
No refunds for people that do not play - but you do get to shoot their paintballs

---
1600 Paintballs, Entry & Equipment Hire
Full group payment is required in advance to secure your spots. (No individual payments)
No refunds for people that do not play - but you do get to shoot their paintballs

---
2100 Paintballs, Entry & Equipment Hire
Full group payment is required in advance to secure your spots. (No individual payments)
No refunds for people that do not play - but you do get to shoot their paintballs

---
Additional Players & Walk ins that have not Prepaid
(If there is room to get you on the field)
100 Paintballs, Entry & Equipment Hire
---
Extra Paintballs
| | | | | |
| --- | --- | --- | --- | --- |
| 100 | paintballs | $25 | | Can be divided between your players |
| 300 | paintballs | $54 | Save $21 | Per Player deal (Cannot be divided between players) |
| 500 | paintballs | $80 | Save $45 | Per Player deal (Cannot be divided between players) |
| 800 | paintballs | $120 | Save $80 | Per Player deal (Cannot be divided between players) |
| 1000 | paintballs | $140 | Save $110 | Per Player deal (Cannot be divided between players) |
| 1500 | paintballs | $210 | Save $165 | Per Player deal (Cannot be divided between players) |
| 2000 | paintballs | $260 | Save $240 | Per Player deal (Cannot be divided between players) |
---
Extra Safety Equipment
| | |
| --- | --- |
| Pink overalls (hire) | $5 |
| Groin Box | $5 |
| Gloves | From $5 |
| Hats | From $6 |
| Paintball Mask | From $49 |

Paintball Park
BIG SHOOTERS
Wall of Fame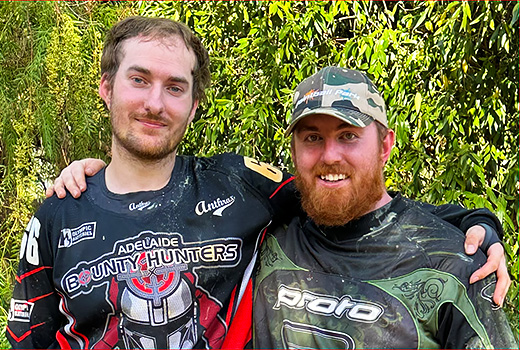 1st
Lachlan & Daniel 5,300 balls each
2nd
Lachlan 5,200 balls
3rd
Luke 5,100 balls
4th
Nathan 3,800 balls