Gift Cards
Paintball Park Gift Cards are perfect for Xmas, Birthdays and any other occasion to send someone for an awesome day out.
Valid for 3 years.
Prices
Paintball Park Gift Cards are available for any dollar amount from $5 and up.
Common amounts are the entry price with 100 paintballs for $35 and also amounts including extra paintballs such as $55, $89, $115, $155, $175, $245, $295.
Other common values are $20, $50, $100 etc.
Group amounts also work well, such as $35 x the amount of players.
How to buy Gift Cards
Gift Cards can be purchased over the phone, by using the online Form below or at Paintball Park on game days.
How to get your Gift Cards
Gift Cards can be posted to you or directly to the person it is for.
Gift Cards can be collected from Paintball Park on a day we are running paintball games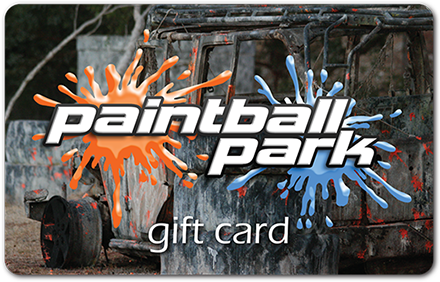 Payment Methods
Phone payments (credit card): Phone 8362 3456 or 0413 144 992.
Internet banking: (Account Name: Paintball Park) (BSB: 065 165) (Account: 1016 5435) (Description is your Gift Card & your name) (commonwealth bank shows same day. Other banks take 2-3 days)
At any Commonwealth Bank: (Account Name: Paintball Park) (BSB: 065 165) (Account: 1016 5435) (once paid please SMS or call 0413 144 992)
In Person: Gift Cards can be purchased at Paintball Park on game days. (59 Womma Road Edinburgh North)